Expanding and Deepening Principles of Indigenous Commerce in Africa
Indigenous commerce may be the best way to describe unique levels of entrepreneurship and relationship-based business models in African markets. After more than a decade observing these trends and practices, eMKambo has in 2022 set out to build strong partnerships with the Alliance for Food Sovereignty in Africa (AFSA) and other partners toward strengthening the role and relevance of indigenous commerce in African territorial markets.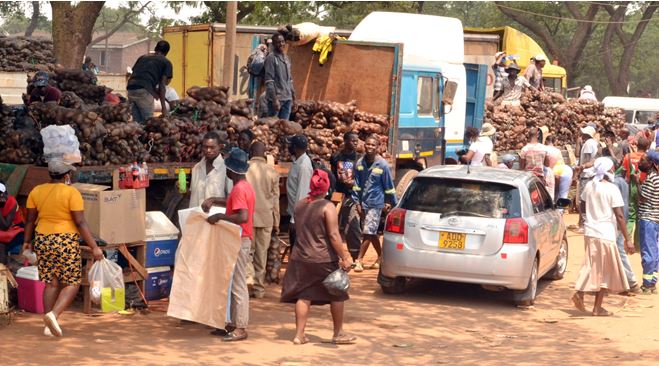 A flavor of indigenous commerce principles
The following six principles of indigenous commerce provide a taste of what is to come:
Social elements are more important than economic aspects
Indigenous commerce ecosystems like African territorial markets are characterized by social aspects that are often missing in the formal economic world. In formal economic settings like the financial sector, relationships are built through filling in account opening forms that try to capture information like where the applicant stays, sources of income and other pieces of information. On the other hand, indigenous commerce is more about trust. Traders and farmers extend loans to each other based on trust not the formal Know Your Clients pathways used by formal commercial institutions. Totems, gender and age are some of the fundamental principles of indigenous commerce. Collaboration is favored more than competition and this is different from the formal commercial world where if stiff competition is between a few actors, they end up colluding to either fix prices or create artificial shortages.
2. Type and size of business has no influence on leadership selection
Everyone is equal in terms of chances of becoming leaders. Being a respected chairperson in the territorial market does not mean one should trade most of the commodities in the market. Even if the selected chairman deals in small volumes of commodities compared to others in the market, s/he is accorded respect commensurate with being a leader not a trader. Just like the first principle, elements of leadership are more to do with social aspects than economic aspects. When leaders go out to represent their constituency, they do so irrespective of business size. This is contrary to the formal commercial world where business representation is clustered by size like big businesses being affiliated to the Confederation of Zimbabwe Industries (CZI) and small business coming under the Zimbabwe National Chamber of Commerce (ZNCC) or any other chambers representing MSMEs.
According to indigenous commerce, business boundaries should not be defined by size in business because boundaries between micro, medium and large enterprises are often very artificial given the level of co-existence in real life. You can only classify something as micro if you consider all aspects ranging from social to economic. For instance, one entrepreneur can have a business with a capital of USD500 taking care of a family of two while the other may have a capital of USD5000 but supporting a family of 10 including extended family members. Using capital to classify a business without understanding beneficiaries can be misleading. Classifying businesses as being small, medium or large should take into account social responsibilities associated with each business because all businesses are affected the same way by external factors.
3. Business knowledge is a public good
Just like in any community where one farmer has 100 cattle and the other has three, knowledge is shared equally within indigenous commerce. There are no selective conferences for traders who trade few commodities and those who trade huge volumes. No idea is small, bad, too big when sharing knowledge. In keeping with the African tradition of sharing knowledge, ideas and experiences from youth, women or disabled traders receive the same attention.
4. Identity is not defined by where you come from or language
Territorial markets are rich with knowledge traditions and values from all corners of every country because identity is not defined by origin or language. Such knowledge and combination of traditions increase enormous value to how businesses are run in African territorial markets. Some of the innovations in these markets are due to diversity brought by farmers, traders and consumers from diverse areas and communities. This is also typical in African communities where the food system has been broadened due to people visiting other communities from where they bring new seed and livestock breeds. Unlike the formal business landscape where a few seed companies experiment with a few seed varieties which they try to promote individually, African territorial markets have all types of seed from everywhere. That exchange of knowledge and seed is an integral part of indigenous commerce.
5. Promotion is determined by tangible achievements not academic qualification or performance
whereas in formal commercial institutions employees rise up the ladder through performance and academic qualifications, in indigenous commerce promotion is expressed through one's achievements at household level as supported by the business. This can be in the form of children graduating from colleges or buying assets like vehicles or processing machinery. However, this kind of contribution of territorial markets to socio-economic development remains undocumented because the formal commercial world is yet to develop formulae for valuing such sources of investment.
6. Contribution to direct and immediate investment is more impactful
To a great extent, enterprises in African territorial markets contribute to direct and immediate investments that are more impactful. They are less to do with making profit or millions of dollars that will be invested in capital markets. Indigenous commerce recognizes advantages in immediate investments like small amounts that go towards school fees and buying property compared to having millions in money markets. In indigenous commerce money is continuously invested in developmental areas that also support other businesses in the ecosystem.
Where the formal economy thinks, business should grow using loans, indigenous commerce is about businesses growing through internal investments and networks. When someone a trader runs out of capital, sometimes due to unforeseen circumstances, s/he can use relationships to get the capital and rebuild his/her business. For instance, relationships can enable her/him to be given stock by other traders and farmers. Instead of depending on loans, relationships facilitate rebuilding and growth of both the farmer and the trader. As the trader expands the market and grows his/her business, the farmer's business also expands and grows – contributing to the growth and resilience of the economy.
What can formal commerce learn from indigenous commerce?
Giving indigenous commerce the correct legitimacy and respect that it deserves will ensure indigenous commerce business models are at the center of building home-grown African economies. As African territorial markets and indigenous commerce expand, it becomes easier for new markets to adopt best practices, principles and models that have underlined the success of these powerful African institutions. To what extent can the private sector marry public sector indigenous commerce principles with private commercial principles to come up with new context-specific and African-oriented business models?
charles@knowledgetransafrica.com  / charles@emkambo.co.zw / info@knowledgetransafrica.com
Website: www.emkambo.co.zw / www.knowledgetransafrica.com
Mobile: 0772 137 717/ 0774 430 309/ 0712 737 430