What would African countries do without people's mass food markets?
Known as people's markets or territorial markets in some African countries, Mass food markets have remained unsung heroes in African countries for several reasons. Besides ensuring diverse and affordable food for the majority of rural and urban consumers, these markets represent a unique expression of African identity and indigenous commerce.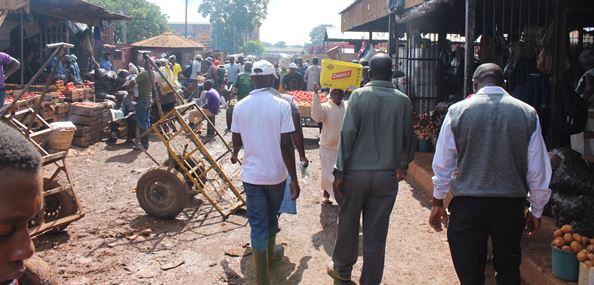 People's markets are different from restaurants or eateries which can also be found in these institutions. Lagos in Nigeria, one of Africa's biggest cities with a population of above 22 million, has more than a thousand mass food markets including Osodi, ldumota, Sandground, Oyingbo ,Alhaja Mogaji, ldumagbo ,ldi -Araba, Tejuoso Aswani, Ajah, Jakande, Sabo ,Ebute -Ero ,Adaranijo, Jankara, lwaya Alimosho, Agege Fagba among others. Selling diverse commodities including sea food, some of the markets are as old as the Lagos Chamber of Commerce and Industry established in 1886.
Accra, Ghana has the famous Makola market and many others in the Volta region as well as around the city of Kumasi where diverse food commodities such as tubers, different kinds of vegetables, fruits and small livestock are traded daily.
French West Africa would not be the same without a wide range of mass food markets some seating on borders between neighboring countries. One of the biggest markets is Thiaroye Gare in Dakar Senegal as well as others in the fertile Casamance region. Bamako in Mali also has several food markets including some in smaller cities. It is the same story in Abijan, Ivory Coast and Ouagadougou in Burkina Faso, among several cities like Niamey in Niger and many others where mass food markets are an integral component of urbanization as well as rural-urban linkages.
Markets with an Arabic flavor
North Africa is also home to several food markets, most with an Arabic flavor in big cities like Casablanca, Morocco as well as the iconic Jedaida Al Haditha market in Tunis, Tunisia. In Egypt, Cairo has many food markets from which its huge population gets fresh food daily.
Markets in Central and East Africa
East Africa would not be what it is without diverse fresh food markets in big cities like Nairobi where we find markets like Marikiti, Ngara and muturwa market. Across in Uganda is Nakawa food market seating on an area equivalent to 13 football fields. In Kigali, Rwanda is Kimironko market which draws food from diverse parts of the hilly small country.
Straddling Central and East Africa, the Democratic Republic of Congo has its fair share many food markets like Kadutu in Bukavu city as well as some in Lubumbashi and Kinshasa. Most of the markets follow displaced populations as a source of food for people in transit. Addis Ababa in Ethiopia has the massive Lideta open air street market which is a hive of activity every morning. Neigbouring Tanzania has many food markets in Daresalam, Dodoma and other cities. Not forgetting livestock-based markets in Sudan, South Sudan and Somalia, among other countries.
All the way to Southern Africa
Going South from East Africa, you cannot miss Soweto Market Zambia, Mitundu market and Tsoka market in Malawi. At the border between Malawi and Zambia is the dynamic Jenda market. Among other food markets, across the border in Zimbabwe is the famous Mbare market in Harare which also accommodates food from neighboring countries like Botswana, Mozambique and South Africa.
To the east of Zimbabwe in Maputo, Mozambique is the giant Mercado Central Market whose building dates back to 1901. Very lively, pungent and vibrant, the market features rows of stalls selling fresh fish and seafood, fruits and vegetables and spices, baskets, cashew nuts and more.
Given its level of industrialization and dominance of supermarket chains, one would assume that South Africa has few people markets. That is not the case. South Africa has several fresh food markets, led by the 127 years old Johannesburg Fresh Produce Market. Seating on 64 hectares, this is arguably Africa's biggest fresh food market.
So what?
Since they have been playing such an important role for decades, when will these food markets get support from policy makers and Africa's premier financial institutions like the African Development Bank? The African Continental Free Trade Area (AfCFTA) may not succeed unless it takes lessons and good practices from mass food markets, some as old as African nation states. Many Africans who have done well in different spheres of life have stories of how they would not have gone to school if their mothers or parents did not trade food commodities in mass food markets. There is no longer any doubt that these markets are a foundation of resilience and African memory. Unfortunately, their contribution to Gross Domestic Product (GDP) has taken too long to be documented and recognized. If these markets did not exist, the COVID19 pandemic would have had a more devastating impact on the African continent.
charles@knowledgetransafrica.com / charles@emkambo.co.zw /info@knowledgetransafrica.com
Website: www.emkambo.co.zw / www.knowledgetransafrica.com